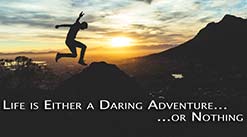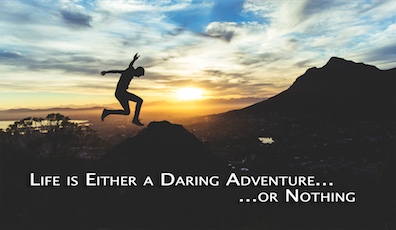 Let me ask you a few questions. Do you want to have more money? Do you want to feel better about your life and have more fun? More importantly, do you want to stop living a life of potential and start living a life of action?
I'd like to share a quote from American author Michael E. Gerber: "The difference between great people and everyone else is that great people create their lives actively, while everyone else is created by their lives, passively waiting to see where life takes them next. The difference between the two is the difference between living fully and just existing."
It's not about simply knowing what to do; it's about taking action and making your life work for you. Do you know things that would improve the quality of your life if you simply applied them? Of course you do. We have all heard the clichés, "just think positively" and "go for more," and yet, there is more to it, isn't there? There are some people that "do and have" while others just "don't and don't have".
What's the difference between these two types of people? Well, you are going to find out. You are going to learn the skills to get anything you want and don't yet have, about creating wealth, balance and abundance.
First of all, I want to acknowledge you for taking the time to read this powerful article. For every desire there is to improve oneself, only 5% ever do something about it. While the other 95% live a life of quiet desperation and regret, saying, "Would of, could of, and should of." You are part of the 5% who are really doing just by reading this information.
The information you are reading is simple but very powerful, developed from some of the most brilliant and wisest minds in history. Having said that, what you are reading is not for everyone. I'm not sure it's even right for you at this moment. Why? You need to be in a place where you truly desire more, want a change for the better in your life, and you need to be open to doing things in new and different ways. Are you there yet?
Remember Albert Einstein's definition of insanity? "Doing the same thing over and over again and expecting different results." Those that "do and have" rid themselves of habits that are non-productive. They seek out new and better ways of doing things.
There is something else needed to get more in your life. You need to make a decision to not just gather information. STOP "getting ready to get ready to do something." Read this last sentence one more time, make it loud this time!
Start living life by actually doing something about your life. Take action, start living life. What does that mean?
I know what it means for me and what the most common answers others would give. Yet, what is most important is what it means to you, personally. What is it you really want from life?
Take a moment right now to think about your answer. Say it out loud.
Knowing what you want is a skill. You may be having a hard time answering the question. You are not alone.
Here are some common answers:
More money
More time freedom
Less stress
More fun and happiness
Better relationships and friendships
More balance in life
More inspiration and effectiveness
Experience People, Places, or Things
So now that you have your answer, did you say it aloud, or did you just keep quiet? Did you keep it to yourself or put it out for the world? Here's another opportunity to say it out loud to the universe. What is it you really want from life? Name one or two things.
As simple as this seems, without this information, one of the pieces of the "success puzzle", you will get exactly what you asked for – nothing. It was Plato that said that we are in a constant state of growing or dying. In other words, we are either getting more or we are getting less.
Those that "do and have" know exactly what it is they want from life. It is also known as their "Why," and not only do they know exactly what it is, they are laser focused on it. They have it in front of them, in literal form (whether it be a declaration posted on a wall, part of their written goals, a photo, etc.,) so as to focus their desire and efforts to realize it. So resolve to take action now, and start really living life!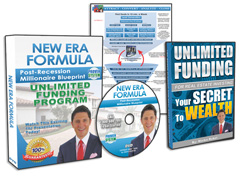 Request FREE Funding Kit and Discover How To Legally Bypass Banks And Gain Direct Access To "No-Credit-Required" Funding You Can Use To Achieve Your Financial Freedom... Start Now!