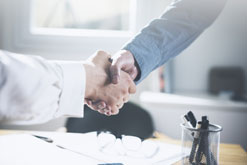 Have you ever been in a position where a prospect or customer pushed back against your offer? It can definitely be unexpected, and even uncomfortable. You may have wondered how it comes so naturally to certain individuals. The answer is that these people have mastered the art of negotiating, so much so that life becomes a game of wits.
In real estate investing, negotiation is the name of the game. You will be in a position to confer and compromise with several types of people, from Realtors, to difficult buyers, potential partners, and bank representatives.
To become an expert is to live the art of negotiation in study and practice. The following tips will help you face negotiations with confidence; it will become fun and challenging rather than nerve-wracking.
Always Have A Plan
Before walking into any negotiation, even the most basic interactions, know your script of questions and your target price, as well as the minimum terms you're willing to walk away with. It almost goes without saying, but it's surprising how often people forget in the heat of the moment. Always take a walk to clear your head and get this information straight prior to any big meeting where terms will be set. Or, if you can, make eye contact with your reflection in the mirror and practice stating your case and terms. For negotiations over the phone or via email, there are both advantages and drawbacks. In these cases, effective communication is more important than your composure.
Learn to Share
Offering ample information about yourself and your side of the deal is an essential component of any negotiation strategy. This is something you can practice every day with personal and professional acquaintances, not to mention strangers you meet throughout the day. Can't seem to think of the right words to say? Ask strategic questions in order to relate to your subject – then share your side. Just make sure you use confident and assured language, using superlatives, and avoiding fillers like "uh" or "like." It may sometimes seem that you're throwing manners out the window, but speaking in a straightforward manner is of the utmost importance in business and investing.
Emulate the Masters
As much as you can practice your negotiation style with people that you speak with on the day to day, it still won't be enough to become a master. Real estate investors will benefit greatly from reading books and listening to audio material from proven, successful, natural negotiators. It really does not matter whose work you read or listen to, but it's advisable to ask for recommendations from someone whose communication style you respect and admire. When you become well-versed in a particular style, you may even gain the ability to recognize when your own tricks are being used on you in a negotiation!
Practice of this discipline is a lifelong journey that will benefit you both in the real estate business, and in your social life. You will constantly meet new people with whom you can practice the art of conversation, and even negotiation.
As a last resort to practice price negotiations, head out to your local swap meet or flea market to see what new connections and scores you can make with your negotiation skills.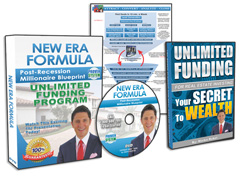 Request FREE Funding Kit and Discover How To Legally Bypass Banks And Gain Direct Access To "No-Credit-Required" Funding You Can Use To Achieve Your Financial Freedom... Start Now!