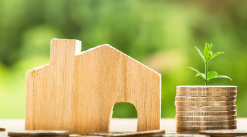 In a seller's market, it can become a bit more challenging for investors to get those "sweet deals" on rental investments. In fact, houses for sale in the hottest markets might even be selling OVER the asking price.  This can cause investors to get into bidding wars and end up paying more than they want.
When inventory is low, the rule usually follows that prices are up.  What can make things worse is when beginner investors who are eager to make the purchase, bid higher than necessary. Sure, they're excited, but the higher bids drive prices up, leaving little room for a great ROI. If you're a seasoned investor, chances are you've seen this happen and simple shake your head, thinking, "darn newbies".
Though CAP rates may decrease in such a market, you don't have to sit on the sidelines. As always, remain positive about the market moving forward. Before you know it, the market could favor buyers, and you'll be all over that in no time.
In the meantime, there are certainly investment strategies to consider to create profits in today's seller's market.
Appraisers must look at prices of similar homes sold in the past, but in a seller's market, homes tend to sell a bit over the appraised value. This may discourage you, but keep in mind that it's the home's value that you're interested in. If one buyer finds the home's value at the price you've set, the house will sell.  In other words, in a seller's market, they're may be fewer buyers, but all you need is one that will be willing to say yes to your price.
Take appraised value with a grain of salt
Appraisals are mandatory, but take them with a grain of salt. Appraisers are looking at the history of a single market value, but their appraisal doesn't necessarily come in spot-on when it comes to the true value of the home. Their appraisal also doesn't tell you what the future market price for the home will be. That's what you're after; an indicator of the future value of the home, and oftentimes that's based upon you educating yourself on the nature of real estate markets and investing.
How to predict real estate prices
As an investor, you'll be more likely to make solid investing choices when you learn how to predict real estate prices. Become a studier of the market, including supply, demand, and the affordability ratio. The more you know and the longer you're in the investment game, the more likely you'll be able to read the market's future path.
Pay attention to the signals you're getting
As you study the market, pay attention to the signals you're getting. The low interest rates we are now experiencing can help you with your investment strategy. When interest rates are as low as they are right now, that can be a plus for you as a real estate investor – even in a seller's market.
See, you can acquire long-term low interest rates right now for under 4 percent. If your investment gets you, say 7 percent, you're using the banks money for your own cash flow. This is called arbitrage.
Arbitrage is, "The simultaneous purchase and sale of an asset to profit from a difference in the price. It is a trade that profits by exploiting the price differences of identical or similar financial instruments on different markets or in different forms."[1]
With an arbitrage strategy, you're making money on the bank's super low interest loan, which is an offset of the higher seller's market prices. It's the same as if it were a buyer's market and you secured a loan at 8 percent. The profits equal out.
Using positive arbitrage in a seller's market
Want more cash flow in a seller's market? Here are two options:
Look for an investment opportunity where the CAP rate is higher than the loan's interest rate.
Hard money loans. Borrow from a bank using your equity from current homes for a long-term fixed interest rate (usually around 4-5 percent).
Look for special need homes
For those who have the time and energy, buying homes that others don't want to bother with is an option in a seller's market. Look for those special need homes that may need some extra TLC (that no one else wants to bother with) and make them unique and inviting. Just be sure they're in a good neighborhood, as location matters.
Don't let a seller's market keep you sitting on the sidelines. Keep these tips in mind and go on and get back in the game!
[1] http://www.investopedia.com/terms/a/arbitrage.asp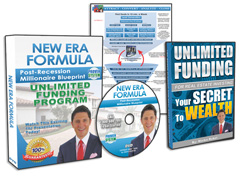 Request FREE Funding Kit and Discover How To Legally Bypass Banks And Gain Direct Access To "No-Credit-Required" Funding You Can Use To Achieve Your Financial Freedom... Start Now!