Whether you've got one rental property or multiple properties, there's more than just one way to gain income from such properties. If you're teetering on the decision whether you should invest in a rental property, this article may give you a little nudge to go that route.
Here's four ways a rental property can give your overall income a boost:
Cashflow
If you've calculated the numbers right, your rental property should be producing a monthly cash flow. The stream of income is cash that you get to put into your pocket every month once you've paid all your expenses. Now, there are those who don't have cash flow, but that's because they didn't run the correct numbers beforehand. Your goal is to have income beat expenses by a decent amount, giving you residual, passive income monthly. Don't go with a "gut feeling" on this. You've got to do your homework and crunch the numbers. There's plenty of articles and tools that you can use before deciding on just what home you'll invest in.
Home Appreciation
As you probably know, homes appreciate over time. Well, most homes. Now, if you're going to be keeping this rental for the long haul, you won't actually get this appreciation as cold hard cash in your pocket. But, if you need the cash, you can profit from the appreciation if you refinance, sell it, or take out a home equity line.
Tax Benefits
Purchase real estate investments and you'll see your tax return change significantly. Because the IRS sees your investment as passive income rather than income you get from your W2s, you get more tax breaks. This is one reason you'll see the wealthy tying up some of their money in real estate. They understand the tax breaks they'll receive.
If you're used to doing your own taxes, and you've purchased or are purchasing an investment property, it's probably best that you hire a CPA to do your taxes for you. Laws are changing every year, and it's to your benefit to have a professional run the numbers for you.
Building Equity
If you've got tenants paying down your mortgage loan, you're building equity based upon their payments. Even if your investment never appreciates for the length of the loan, in the end you still own the home, which gives you more equity. You build equity without paying a dime.
Granted, there are some people who are not in favor of taking out loans for investment properties. However, there are others that love to leverage investment properties rather than pay cash. It's not necessarily a right or wrong issue. It's more of a preference or passion.
There's certainly more than one way to squeeze cash out of a rental property, so keep focused on these as you move forward with your real estate investment goals in mind. When you start getting a bit anxious, remind yourself that there's a science behind investment. There are strategies and techniques for investment success. As you continue to learn, you'll experience more success of your own, watching that cash flow into your reality day after day.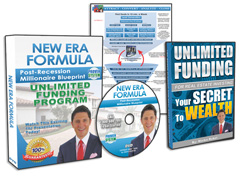 Request FREE Funding Kit and Discover How To Legally Bypass Banks And Gain Direct Access To "No-Credit-Required" Funding You Can Use To Achieve Your Financial Freedom... Start Now!