Many people have a good sum of money tied up in the stock market or maybe even sitting in a savings account somewhere.  They've thought about getting started investing in real estate, but just didn't know where to start.
Real estate investing can certainly expand your current investment portfolio, giving you good cash flow immediately. If you're ready to get started, here are five great ways to do so:
Buy real estate investment trusts
A real estate investment trust (REIT) is a great way to invest in real estate without actually investing in physical property. REITs act much like a mutual fund, in that you get paid dividends by companies who own real estate. REITs can be tricky to understand. Some are traded publicly like stock and others aren't. If you're new to this type of investing, it may be best to start with publicly traded REITs. It's certainly worth discussing this type of investment with a financial advisor.
Rental properties
Some people look at seasoned investors with many properties and think they'll never be able to be like them.  The reality is that all seasoned investors started with just one rental property, and that's all you have to do to get started.  Make the intent to start off with one investment property in a price bracket that is something you can work with. It may be scary, but don't let any fear hold you back if investing is something you want to do. Once you go through the process of getting that first rental property, you'll have learned so much. It'll get easier every time after that.
House hacking
There's a term called "house hacking", which some people use as a way to make a real estate investment. House hacking means that you purchase a home, live in the home and rent out the other bedrooms. This allows you to live for free and may even put some cash in your pocket each month.
Flipping homes
Some people get into the real estate investing business by buying homes, fixing them up, and then reselling them for a profit. Flipping homes may look like a breeze on HGTV, but it's not a cake walk.  You've got to work the numbers very well and hope that all goes as planned, because when you don't, you could end up losing money.  Still, many people have walked away with large sums of money flipping homes, so it's certainly one way to get involved in real estate investing.
Buying properties 'Subject To'
My favorite method of buying real estate is using my Unlimited Funding method or 'Subject To' deals. Getting involved in real estate this way allows you to bypass going to the bank for a mortgage loan because the loan stays in the seller's name. You find motivated sellers, such as those headed toward foreclosure, and get them to sell you the home "Subject To', which means you get the title to the home and the bank loan stays in their name. They move out and you get new tenants in there with a lease-to-purchase agreement. You require a nice sized down payment, and the new tenants make the existing loan payment. This way, you have cash flow and you never even go to the bank to get a loan.  Eventually, the new tenants get their own funding and purchase the home. This is an excellent way to make large amounts of money investing in homes.
If you think you can't get started buying real estate now, think again.  Continue learning about real estate investing, take courses, hire a mentor, attend a seminar, and so on.  If you're looking to build wealth, investing in real estate is a great vehicle to get there.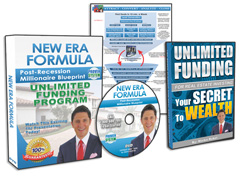 Request FREE Funding Kit and Discover How To Legally Bypass Banks And Gain Direct Access To "No-Credit-Required" Funding You Can Use To Achieve Your Financial Freedom... Start Now!