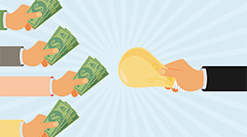 One thing you may be wondering as you evolve in your real estate career is: "Where in the world am I going to find enough funding to execute all my dream deals?"
It doesn't matter if you're new to the investing world, or just looking for something different. Your options for real estate funding will be some version of the following:
Hard Money
Unless you've amassed a fortune doing something else, financing for real estate investors isn't always there for the taking. Luckily, small, private financial institutions exist that can lend large sums of cash, secured by real estate property. These institutions are referred to as Hard Money Lenders. This method of funding can be beneficial to investors with lower-than-desired credit scores, since it's based on the value of the property you are investing in.
Home Equity Loans & Lines of Credit
With the right interest rate, it could be possible to finance some of your real estate dreams using only a credit card. However, under the right circumstances, you can also access home equity loans, or home equity lines of credit. This type of funding lets you use the property as collateral to borrow cash. You can use this type of funding to make vital renovations to a flip property in order to maximize your return.
Government Grants
Obviously, the government has a vested interest in keeping real estate markets running smoothly. That means that there are dozens of grants out there for real estate investors to take advantage of. Remember to look at the local, state, and federal level for grants that may apply in your situation. Grants.gov and the HUD grants website are great places to start your research.
Private Money Lenders
In contrast to people and institutions that will lend you Hard Money, Private Money Lenders do not officially represent any financial institution. However, they may be able to help you connect the dots and secure the funding that you need. If you don't see a way to get in contact with a private money lender, focus on building more professional relationships.
Joint Venture
When in doubt, find a monied investor to take the burden off of your bank account. This could be a mentor or colleague, or even a friend or family member. The only rule is that all parties should formally agree on how the return will be allocated. This is all part of planning your exit strategy before you even invest. Joint venture business partners can see amazing long-term success and professional friendship!
Seeking new sources of funding in a real estate investing can often seem daunting. This is why I offer specialized coaching for investors, and even a 100 percent FREE educational real estate investing DVD kit that revolves around funding.
You may not always succeed in your attempts to secure funding or financing for your real estate dreams. In this case, build your credit by making smart investment choices, and you'll rebound in no time.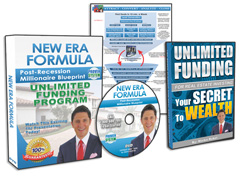 Request FREE Funding Kit and Discover How To Legally Bypass Banks And Gain Direct Access To "No-Credit-Required" Funding You Can Use To Achieve Your Financial Freedom... Start Now!