A student of mine, a new investor, sent me this video and I think you need to watch it. Before you do, let me ask you… How many of you are discouraged by the results you're getting? Did a seller say "No" to you?  Did your attorney tell you "Can't do it?" Did you get no response on your recent mailings? These and many other concerns are going through your head now, as we speak, right!
However, YOU NEED TO KNOW that failure is a part of life and an unavoidable part of success! The best way to handle failure is to accept it, and move forward.
In my early career I hit obstacles. Even today I get disappointed and I fail, but… the failure doesn't discourage me. It makes me stronger!
This video is NOT about sport, it's about LIFE. Watch it now and never give in!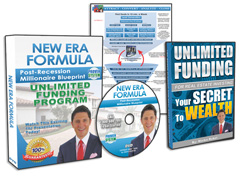 Request FREE Funding Kit and Discover How To Legally Bypass Banks And Gain Direct Access To "No-Credit-Required" Funding You Can Use To Achieve Your Financial Freedom... Start Now!