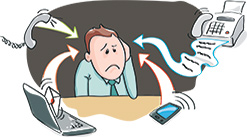 Courses. E-books. Consults. Live trainings and webinars. There are simply too many options out there to comprehend when it comes to continuing your education.
It may seem overwhelming at times, but it's just basic economics of supply and demand.
Since there will never be a shortage of individuals hungry for more knowledge, many life coaches, marketers and entrepreneurs are capitalizing by creating their own teaching programs and materials. Many of these come at an extremely high price – sometimes in the multiple thousands of dollars – as they should, if the course's creator and information are really as qualified as they claim to be.
The question remains: how does one make certain that a given course is really what they need to succeed, or at least, reach that next level of their career? With the vast amount of options available, and the lofty promises of growth and profit made by clever course creators, it can be hard to tell. And nobody wants to be suckered into forking over a month's pay for education that is lukewarm at best.
If you've already started on your journey to further education in the real estate investing field, congratulations! A world of research, strategy, innovation and hopefully, success awaits you. May I first recommend my course, Unlimited Funding, which can teach you to invest in real estate without having to go through the long and tedious process of borrowing capital from traditional institutions.
Cutting through all the noise and finding the right course to take can be an uncertain process if you're going it alone. As your real estate mentor, let me share with you a few tips to make you an unstoppable force when it comes to hunting down and conquering digital course material.
Avoid "Shiny Button Syndrome"
If you've ever been on the hunt for career course material, it's possible that you have struggled with what we in the biz call, "shiny button" or "shiny object syndrome." What this means is that you may be apt to jump from one attractive offer to the next, without actually absorbing any knowledge from the process.
As I've said before, real estate investors tend to be creative and imaginative people with an insatiable hunger for more financial learning. This makes us especially susceptible to chasing these shiny offers when we see them!
Always keep an open perspective, but remember that many different articles, guides, videos, and courses will look appealing to you as you begin your search for information. Do not purchase all of them! You'll be broke, and course creators will line their pockets with your hard-earned cash.
Once you learn to critically analyze courses, rather than click "Buy" on your first read, you're finally ready to start making smart and effective decisions about the future of your business and real estate investing education. Gain more skill, and you might be surprised at how quickly you become an expert at spotting scams and rip-offs in the world of digital courses.
Figure Out What You REALLY Want
Many professionals fail in their approach for continuing education for one simple reason: they don't really know what they are looking for or what they want to achieve. Books sit on the shelf, and courses sit on the hard drive, completely untouched because the person who bought them just wasn't sure.
There are a few personal questions you simply have to know the answers to prior to seeking further education in your field:
What are my financial goals for this year?
Which problems do I face over and over again in my business dealings?
Where do my social and professional weaknesses lie?
Ensure that your goals for education match your actual needs. Wanting to get better at marketing is something that many real estate investors are interested in learning. But first, think – do I really need to get better at DIY marketing in order to raise my bottom line? Or, can I outsource some of my marketing needs to people who can do a stellar job?
If it's not absolutely essential to move you forward in your career, in a set time frame, then it's really nothing more than a "shiny button." It's up to you to know yourself well enough to know which courses are must-haves, and which ones are nice-to-haves.
Devote Time + Energy
Once you've outlined your goals and needs, and found the perfect course to get you from Point A to Point B in a time frame of your choosing, it's time to execute.
Unfortunately, there are SO many entrepreneurs and investors who enroll in digital courses, and promptly become "too busy" to complete them. Just like all those books, hundreds if not thousands of digital courses sit untouched on hard drives, just waiting to impart their wisdom to the owner, if he or she could only give them the time of day. These people will not succeed as they intend to.
Strong course-takers plan their education schedule as soon as they purchase course materials. In many cases, digital courses will come with some type of accountability safety net that will help you stay diligent and complete the course successfully. This may come in the form of an online group or discussion board for all course-takers to participate in, or included check-in calls or coaching sessions with the course creator themselves. Align your daily schedule to participate in any way that you can.
If your particular course does not come with any live support or networking, it's entirely up to you to make it happen. Set aside at least an hour per day to review course material and any ancillary readings that can help you understand what you've learned.
No matter which course you choose, you're already a step ahead by seeking further credibility in your field. Knowledge is power, practice is confidence, and opportunity is what you make it.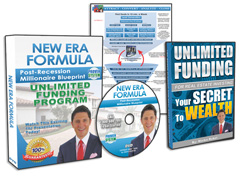 Request FREE Funding Kit and Discover How To Legally Bypass Banks And Gain Direct Access To "No-Credit-Required" Funding You Can Use To Achieve Your Financial Freedom... Start Now!