While you might have already embarked on your real estate journey, you may not have landed yourself a deal yet, and the reason for this might be your own excuses.
Due to the following excuses, many people fail to get their first deal. However, they are just that – excuses, and there are solutions for each.
Lack of money
The money problem can be solved in many ways, and all of them start by finding a good deal. There are plenty of ways you can buy rental property without having money down. My Niche2Wealth method is a prime example. And, if you do need some cash, hard money lenders are everywhere, and plenty of them would love to give you business.
You can also get money by finding someone you can partner up with. You must remember one thing when getting your first deal; your primary aim is to finish the deal.  So many get started, but then offer many excuses as to why they can't finish.
Insufficient time
If you have time to go through your social media, go out with your friends, or watch your favorite TV shows, then the problem isn't a lack of time. Rather, it's time allocation.
Chances are you're wasting time on things your life can do without – probably a couple hours in one day alone. Use the time that you spend in the car, waiting in lines, as well as the time spent for getting ready in the morning, etc. to learn more about real estate investing. Take the 30 minutes you use for things you can live without each day and use it for making phone calls or meeting key people on your investing team in an attempt to get your first deal done.
No experience
The truth is that everyone started in property investing without any experience. The solution to the lack of experience is quite simple; you need to form a good team. You need to go out and network with those who can assist you in getting and closing your first deal. All the resources are presently out there; you only need to tap into them and get a property under contract. Then, once you have a better understanding of what your weaknesses and strengths are, then you can work on improving your team.
Unfavorable market conditions
The solution to this is quite easy; either get creative or look at different locations. The world today is highly interconnected, and physical distance is not much of an issue anymore. While thinking about investing in such a market where you don't live is scary, investors all over the world do it – and make enormous amounts of money too!
Consumer debt
You are the only person that can find the solution to this problem. You must think about it and why you have such debt in the first place. Is it because of your lifestyle or because you have no self-control? Or is it because of something else?
One thing is for sure; sweeping consumer debt under the carpet won't get you very far, so it's time to tackle it with intention and focus. It's time to start slashing it month by month. You may have to think about downsizing for now. Prioritize getting successful over owning consumer items. If materialistic things are holding you back from being successful, then there are many things you can do to bring about positive change.
Getting your first deal can bring on some anxiety, but know that everyone contends with that. The difference is that those who feel that anxiety and move forward anyway are much more apt to experience success than those that allow that anxiety to hold them back. If excuses are holding you back, tackle them one by one, keep building your investment team, and reach out for some support if you need.  Once you get that first deal completed, that anxiety flees, and you'll be much more prepared for your second deal, and third, and so on.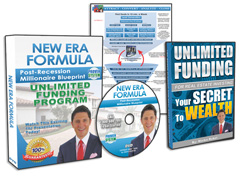 Request FREE Funding Kit and Discover How To Legally Bypass Banks And Gain Direct Access To "No-Credit-Required" Funding You Can Use To Achieve Your Financial Freedom... Start Now!