Whether you're a part-time or full-time real estate investor, you're in the business of sales. In particular you are in the business of selling yourself as a credible business person. Before someone will do a deal with you they have to "buy" you first and be willing to listen to you.
But maybe you don't really consider yourself a sales person. Maybe somewhere along the way you've gotten a bad idea about sales people in your mind. You know, that pushy car salesman who you're leery to trust? Or that one time you were "schooled" in a pretty big sale?
Sales people can get bad raps, for sure, as there are those out there who are not very trustworthy. But there are more good sales people than bad out there, and sales is essential to the economy. Being a sales person doesn't have to be something that makes you feel uncomfortable – not if you're selling a quality product in a way that respects and serves others in a good way.
What are your thoughts on sales?
The real estate business is a selling business. As a real estate investor, you're a sales person. How does that make you feel? Well, if you have your concerns about that, one change of perspective can improve your investing business.
Sales is service
If you will begin to view yourself as a person who delivers high quality service to another, for their benefit first, you'll adopt a better perspective that will ultimately improve your business.
Don't you get a great feeling when you can help someone out? When you can be of service? Add value to their lives?
As a real estate investor, sure, you want a great return on any investments you make. That's understandable. At the same time, if all you can think about is YOU and what you're going to get out of a deal, your business may not be as productive as you'd like.
People want a fair exchange, and customers want to know that they're getting something valuable for exchange. Give them the BEST service, and they'll know 100 percent that they're getting something quite valuable.
You have a service business
As a property investor, you're a service business. As such, you deal with a handful of people regularly, such as sellers, buyers, tenants, escrow companies, property managers, and so on. You have plenty of opportunity to offer excellent service to make each conversation and transaction something each person will remember.
For the seller, you're offering to help them out by purchasing their home. If they are in a bind, like heading into foreclosure or are simply motivated to sell, you get to help them by purchasing their home, and you get a decent discount in exchange. If you go to them without giving them impeccable service, you may not get the deal, as quality of service is that important.
If you only see yourself as a sales person, and don't really love the thought of sales, simply changing your perception from sales to service can bring positive change. You'll notice that your clients are more apt to favor you, and maybe even rave about you to friends and family.
So, moving forward, adopt the perspective that you're a service provider, offering the best of the best service to all you meet.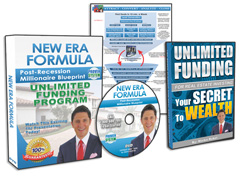 Request FREE Funding Kit and Discover How To Legally Bypass Banks And Gain Direct Access To "No-Credit-Required" Funding You Can Use To Achieve Your Financial Freedom... Start Now!