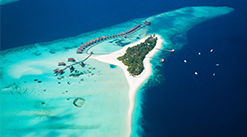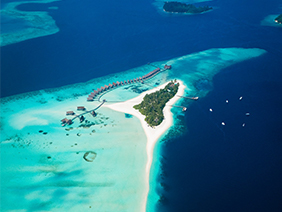 A Bahamas vacation is perfect for anyone (especially in the winter) who loves beautiful, pristine beaches and sunshine. With 700 islands to explore and thousands of small cays sprawled over the ocean, you won't want to miss this tropical paradise that offers the finest boating, fishing, snorkeling, sailing, and diving
But with so much land and sea to explore, what are the "musts" in the Bahamas?  Where should you be sure you don't miss?
Here are 5 places you won't want to miss out on visiting while you're visiting the Bahamas:
Nassau
Nassau is the capital of the Bahamas and is quite popular with the tourists. If you're visiting via a cruise ship, this is the port you'll likely arrive in, having all day to get out on the island and play.  There's plenty of delightful things to do too.  There's a plethora of quaint and ritzy shops, resorts that offer fine food and entertainment. Just to the north of Nassau is Paradise Island, which tourists flock to because of its 685 acres of well, paradise.  Hit the casino, head to the aquarium, play a round of golf, or shop till you drop.  One thing's for sure, Nassau and Paradise Island should be on your "must visit" list.
Port Lucaya Marketplace
If you're a fan of shopping, you must visit Port Lucaya Marketplace on the Grand Bahama Island.  This shopper's paradise offers more than 40 specialty stores and quaint boutiques, as well as a wide range of restaurants offering just about every cuisine. If you love dancing, you'll be delighted to dance all night long to Bahamian music in the Marketplace Square. And, you'll have plenty of opportunities to find just the right souvenirs to bring home to your friends and family.
Versailles Gardens and French Cloister
While you're visiting Nassau, check out the Versailles Gardens and French Cloister.  There you'll find a bit of Greece and France 12th century style in the beautiful architecture and landscaping. The surroundings are quite peaceful where you can view multi-terraced gardens and statues, as well as green flora as far as your eye can see. Plus, it's free to visit!
Atlantis Resort
The resort is like a journey to another world, nestled on the shores of Paradise Island in Nassau, the Bahamas. It's incredibly scenic with sprawling coral and pink towers overlooking coves, bays, and the beautiful waters of the Bahamian Islands. You have the chance to explore all the tropical fish and aquarium activity, the dolphins, and the Atlantis "dig" that is uncovering all the ancient artifacts.
The whole concept of the resort is the long-lost island of Atlantis that Plato wrote about many years ago that some say is located near the Bahamas. Divers have found strange stone "roads" underwater on at least one of the islands. Atlantis Resort has turned that into a theme, where they have created "digs" on the property that you can tour and see some of the strange and incredible discoveries that were found under the surface or water.
Treasure Cay Beach
Treasure Cay Beach draws many visitors because of its pristine, beauteous beaches. The amazing aqua color of the water astonishes people for sure. Located on the Great Abaco Island in the Bahamas, this small island offers some shops and restaurants to satiate your shopping and eating needs, as well as fine beaches where you can get some rest and relaxation.
Of course, the Bahamas offers much more than what's mentioned here, so be sure to do your research before you go.  Are you ready for some fun in sun hopping islands?  The Bahamas is waiting for you!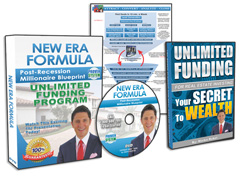 Request FREE Funding Kit and Discover How To Legally Bypass Banks And Gain Direct Access To "No-Credit-Required" Funding You Can Use To Achieve Your Financial Freedom... Start Now!