Just because you're a property investor doesn't necessarily mean you will easily achieve the kind of success you're after.  There are plenty of real estate investors out there that dabble here and there and end up getting out of the business within a few short years.
It's not because the potential to gain wealth isn't there, because it is.  It's largely because they weren't strategic with their planning and perhaps even got scared when they hit a bump in the road.  As the success quote states, "The road to success is paved with bumps and potholes, but you can learn how to brace yourselves for the bumps and veer around those potholes."
Today, let's look at some key aspects of property investing with the acronym SMART:
S – Strategy
M – Mindset
A – Action
R – Review
T – Timely
SMART Investors are Strategic
There are millions of people out there who know that many wealthy people are partly wealthy because they invest in real estate. Those same people say, "I want to invest in real estate", but many never go on to form a strategy to do so. They might begin to learn about investing, but flake out within a short time. As a SMART investor, no matter what investment niche you get into, be strategic. Take the time to strategize, set your goals, and create and execute an action plan. You can also follow the plan you are provided in our Foreclosure Investing Mastery course.
Mindset Matters
If your fearful that you're going to fall flat on your face, those fearful emotions can manifest that.  Sure, once in a while, "what if" thoughts may come, but don't dwell on them. If you swim with the sharks, it's likely sooner or later you'll be their dinner, so don't swim with sharks. Don't entertain fearful thoughts or listen to Uncle Bobby, who tells you that the market is going to crash and you're going to lose all your money. Keep your mindset positive, sharp, and feed it information that will give it a boost and a positive perspective daily. Your mindset matters!
Take Action Regularly
Strategy is one thing, but action is another. Action is a vital component when it comes to real estate property investing success. If you're great on the strategizing and planning parts, yet you slack when it comes to executing, that is exactly the reason you need to attend our next live event. Students report that our events give them a huge boost that gets them motivated to go out and get deals.
Review Regularly
Take the time to review where you're at and where you're headed. Look at your numbers closely. How are they doing? Do you have cash flow? How is it? Is there anything holding you back?  A great time to do an in-depth review is at the end of every year.  You can look at your portfolio on your own, or go over it with a financial advisor.  When you can see where you've been, where you're at, and where you want to go all at one time, you're better prepared to learn valuable lessons and be more strategic moving forward.
Timeliness Matters
Most things of value take time and building wealth is no exception.  If you're not seeing the results you anticipated yet, be patient.  Keep doing what you know to do and make changes where applicable. Rome wasn't built in a day and your portfolio will not likely produce you a million dollars in a month. (Though I'm not ruling that out!)
Be SMART when it comes to your property investing business. Remember that it's a business; not a hobby or side-job.  As a business owner, there's a lot you can learn to cause your cash flow to increase significantly.  Whether you're a newbie investor or a seasoned investor, remember these 5 keys of SMART property investing and apply them to your business regularly.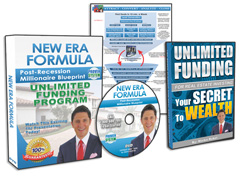 Request FREE Funding Kit and Discover How To Legally Bypass Banks And Gain Direct Access To "No-Credit-Required" Funding You Can Use To Achieve Your Financial Freedom... Start Now!