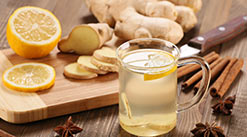 Throughout my career as a Real Estate Investor, I've realized that a healthy body and mind are critical to my success. Over the years of negotiating with sellers, speaking at seminars, and coaching students, I'd find myself needing quick relief without having the time to run out to the pharmacy. Luckily my wife Tammy has always been there to help me. For the upcoming flu and cold season, make sure to check out her 4 fast home remedies.
A spoonful of ginger can help soothe your stomach.Ginger has been shown in many studies to be an effective solution to reduce nausea and vomiting. Growing up, my parents would give me ginger ale to drink when I was sick. However the biggest problem with ginger ale is that it has almost no ginger, and a lot of sugar. Make your own ginger tea by boiling sliced ginger root in a cup of water for five minutes. Drinking it cold after it's had time to cool works just as well.
Honey eases sore throat pain. Looking for a natural, sweet, alternative to nasty cough syrup? Try a teaspoon of honey next time you have a cough. It's been shown to decrease coughing as effectively as OTC cough suppressants. It's a time-proven homeopathic remedy. Next time you have a cough, think honey!
Baking soda paste can help relieve insect stings and push out splinters. Have an itchy spider bite or a pesky splinter? For quick relief from an itchy or sore insect bite, mix a tablespoon of baking soda with one teaspoon water. For splinters, rub the paste on the splinter and wrap a bandage on it.
Homemade ice packs ease sore bones. Need ice for an injury, but don't want to use a bag of frozen peas? Try this trick: Mix one part rubbing alcohol with three parts water big plastic bag and stick in the freezer for a few hours. It will stay ice cold, but won't fully harden, (just like those expensive icepacks from the store) so you can shape it however you want to fit your injured area.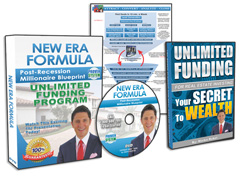 Request FREE Funding Kit and Discover How To Legally Bypass Banks And Gain Direct Access To "No-Credit-Required" Funding You Can Use To Achieve Your Financial Freedom... Start Now!